Julia Salvini, M.Eng., P.Eng.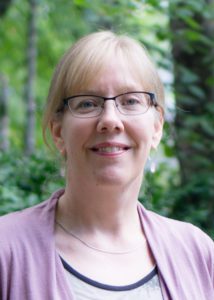 Professional Experience
Julia Salvini is President of Salvini Consulting Inc., a Kitchener-based transportation firm specializing in planning transportation systems and policy in growing cities. Julia works with municipal clients and with land developers to develop solutions that are highly functional and resilient. Her work with Salvini Consulting builds on a 20 year career based primarily in consulting in the Toronto area focused in the areas of traffic operations, transportation planning and transit planning. She also worked with Metrolinx, the Greater Toronto Transportation Authority, and taught at both Ryerson University and University of Toronto.
Julia has always felt that a strong understanding of land use planning is a key ingredient in doing meaningful transportation work and has had the opportunity to work with exceptional Planners over the course of her career. She is especially interested in the role that transportation plays in economic development and in building and evolving cities.
Julia has degrees in Civil Engineering from both the University of Waterloo and the University of Toronto. She is a licensed Professional Engineer in the Province of Ontario.
Service Biography
Julia has a long history of involvement with ITE. She is Past President (2002 to 2010) of the Toronto Section and served for five years on the ITE Transportation Planning Council Executive. She is the current Vice President of CITE having first been elected Secretary Treasurer in 2015. Julia also volunteers in various ways with students in her community and is currently sitting on the Board of Governors of St. Paul's University College at the University of Waterloo.