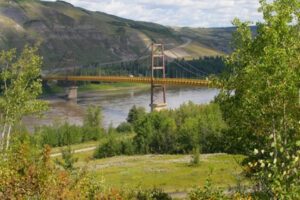 The Northern Alberta Section strives to promote the sharing of knowledge with transportation professionals and academic staff. The primary means of accomplishing this is with the continuation of the traditional program of luncheon meetings. Typically, seven meetings are held each year including joint meetings with the Alberta Association, Canadian Institute of Planners and the Canadian Society for Civil Engineers. All professionals of the transportation industry in general are welcome to attend our knowledge sharing luncheons that typically occur on the first Wednesday of each month from September through May.
The Northern Alberta Section also hosts an annual student mixer as a way to bring transportation professionals and engineering students from the University of Alberta together. This is viewed as an important way of connecting students and the industry.
The Northern Alberta Section Executive is working towards rebuilding the connection between ITE and students by seeking ways to invest in launching an undergraduate scholarship at the University of Alberta.
General Information
Current Executive
| | |
| --- | --- |
| President: | Alyssa Lefebvre |
| Vice President: | Bo Kapatsila |
| Secretary/Treasurer | David Mason |
| District Representative (to the ITE Canada Board): | Jackie Prior |
| Past President: | Dan Zeggelaar |
Want to update this page or add an event for this Section? Contact us.