Training Opportunities
Find upcoming training opportunities in our Training Events Calendar.
---
The ITE Canada Training Committee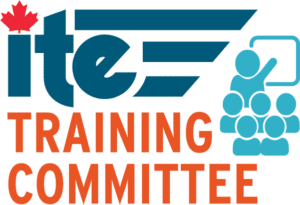 The Training Committee was formed in 2016 to increase the awareness and availability of training opportunities for Canadian transportation professionals by overseeing the development and delivery of training initiatives. The Training Committee is comprised of ITE Canada members who are responsible for prioritizing, selecting and organizing training opportunities for transportation professionals across Canada. The Training Committee is the liaison between the ITE Canada membership, the ITE Canada Executive and Board of Directors, the ITE Canada Technical Liaison Committee, and partner organizations for training.
Since the Training Committee is primarily a coordinating body tasked with providing opportunities for training to ITE Canada members, it typically does not get involved with the development of specific training materials or delivery of the actual training sessions. Individual members of the Training Committee can be involved in the preparation of materials and delivery of the training sessions as appropriate.
---
Have an idea for training? please contact the Training Committee at training@itecanada.org.
---
Training Committee Appointees
---
Terms of Reference
Learn more about the ITE Canada Training Committee in their Terms of Reference below.

This is the November 2016 terms of reference of the CITE Training Committee. ...