The ITE Canada Annual Conference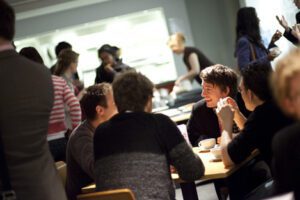 The major ITE Canada event is its annual meeting. In 1977, CITE (now ITE Canada) held its inaugural annual meeting in Ottawa and meetings have since been held each year at various locations throughout the country. Locations are rotated to provide the opportunity for as many members to attend as possible. It's a complex matter to organize and host a meeting that can involve a time frame of 2 to 3 years, a group of 10 to 20 committee members, 300 to 500 registrants, and a budget which in recent years easily exceeds $100,000.
The prime focus of the annual meeting is the exchange of technical information through the presentation of papers and various discussion formats.
The meeting is also where each year Executive and Board members meet for formal District meetings and provides a venue for the social interaction and networking of delegates. For the local arrangements committee, an annual meeting can provide a rewarding and cohesive force that will reinforce the value and purpose of the host ITE Canada Section/ Chapter.
ITE Canada Conference Guidelines (PDF)
ITE Canada Annual Conferences – Past & Upcoming
2024 Hamilton, ON
2023 Winnipeg, MB
2022 Vancouver, BC
2021 Virtual Conference
2020 Not held
2019 Ottawa, ON
2018 Edmonton, AB
2017 Toronto, ON (Joint ITE/CITE)
2016 Kelowna, BC
2015 Regina, SK
2014 Waterloo Region, ON
2013 Calgary, AB
2012 Winnipeg, MB
2011 Halifax, NS
2010 Vancouver, BC
2009 Montréal, QC
2008 Victoria, BC
2007 Toronto, ON
2006 Banff, AB
2005 Saskatoon, SK
2004 Moncton, NB
2003 Winnipeg, MB
2002 Ottawa, ON
2001 Calgary, AB
2000 Niagara Falls, ON
1999 Montréal, QC
1998 Toronto, ON
1997 Vancouver, BC
1996 St. John's, NF
1995 Regina, SK
1994 Windsor, ON
1993 Edmonton, AB
1992 Ottawa, ON
1991 Victoria, BC
1990 Toronto, ON
1989 Charlottetown, PEI
1988 Vancouver, BC
1987 Hamilton, ON
1986 Vancouver, BC
1985 Calgary, AB
1984 Ottawa, ON
1983 Edmonton, AB
1982 Toronto, ON
1981 Victoria, BC
1980 Halifax, NS
1979 Toronto, ON
1978 Calgary, AB
1977 Winnipeg, MB
1976 Ottawa, ON