Many Canadians were recognized at the 2023 ITE International Annual Meeting in Portland, including two ITE 2023 Excellence in Transportation Awards, a new ITE Honourary Member, and several achievements by Canadian members.
District Innovation Award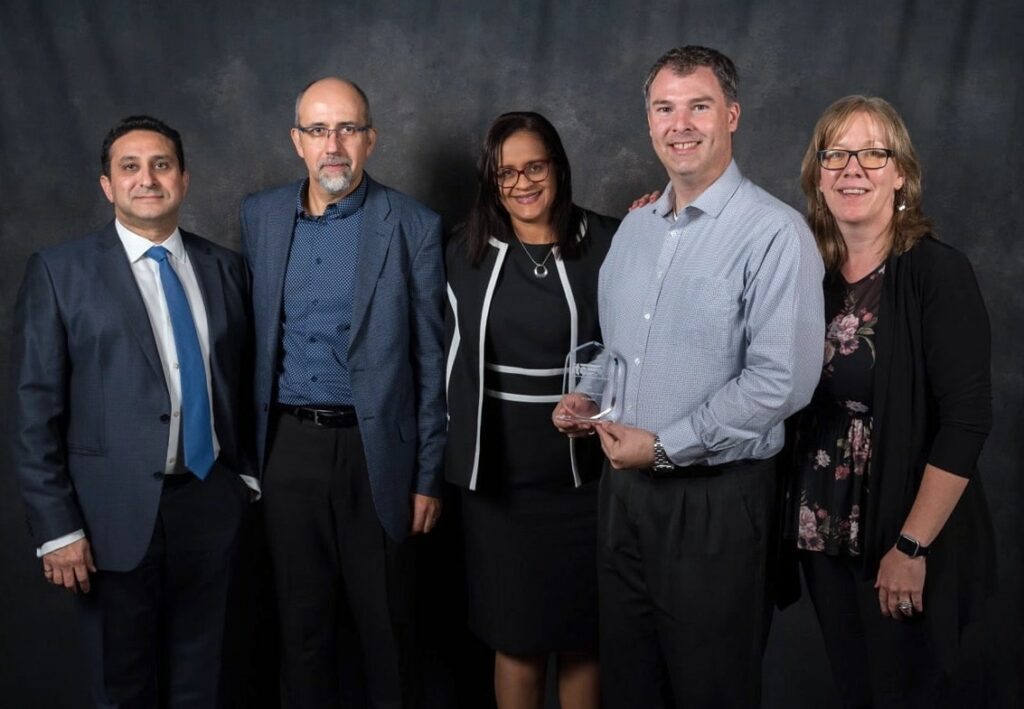 ITE Canada is honoured to receive the ITE International 2023 District Innovation Award for our Strategic Communications & Implementation Plan and Brand Strategy.
The District Innovation Award recognizes a District that has implemented an innovative program or activity focused on leadership or management for the District, its Sections, and its members. ITE International bestowed this honour on the Canadian District with the following in their release (PDF, 757 KB):
ITE Canada's comprehensive communications and branding strategy is an exemplary example and should serve as an inspiration to other Districts.

ITE Canada's efforts reinforce the value of strategic communication and brand coherence. The initiatives have fostered unity, equity, and a more streamlined experience across the District, embodying the ideals of ONE ITE and solidifying ITE Canada's standing as a modern, relevant, and professional organization.
Thank you to all of our members for supporting this initiative and the following individuals for their contributions to its success!
ITE Canada Board of Directors & Executive Committee
Evonne Winchiu Donaher, Communications Lead, ITE Canada
Ryan Vanderputten, President, ITE Canada
UPLIFT Engagement Communications Inc.: Leanne Buck, Jason Esteban, Shannon Paterson & Jackie Boucher
The Brand Strategy + Design Review Committee: Steven
Florko (ITE Canada Board member & Manitoba Section), Erik Nevland (Toronto Section), Destiny Piper (ITE
Canada Board member & Saskatchewan Section), Benjamin Corbett (University of British Columbia Student
Chapter) & Adonai Garcia (York University Student Chapter)
Learn more about the Strategic Communications & Implementation Plan and Brand Strategy in our award submission.
Student Chapter Momentum Award
Congratulations to the ITE University of Waterloo Student Chapter, recipients of the ITE International Student Chapter Momentum Award!

This recognition from ITE is well-deserved and a testament to the hard work of this group in a standout year.
Well done to the Student Chapter leadership team:
President – Reza Aminghafouri
Vice-president – Matea Ceric
Treasurer – Lucas Sobreira
Secretary – Jeffrey Dai
Media team – Ida Liu, Jason Skidmore, Karen Siu, Marc Ricciuti, and Urooj Khan
Student Representative – Andres Valencia Rodriguez
Event Coordinator team – Andrew Wong and Shrinidhi Elangovanneela
Treasurer Support team – Karemnia Barrera Jaimes
Chapter Advisors – Prof. Chris Bachmann and Prof. Liping Fu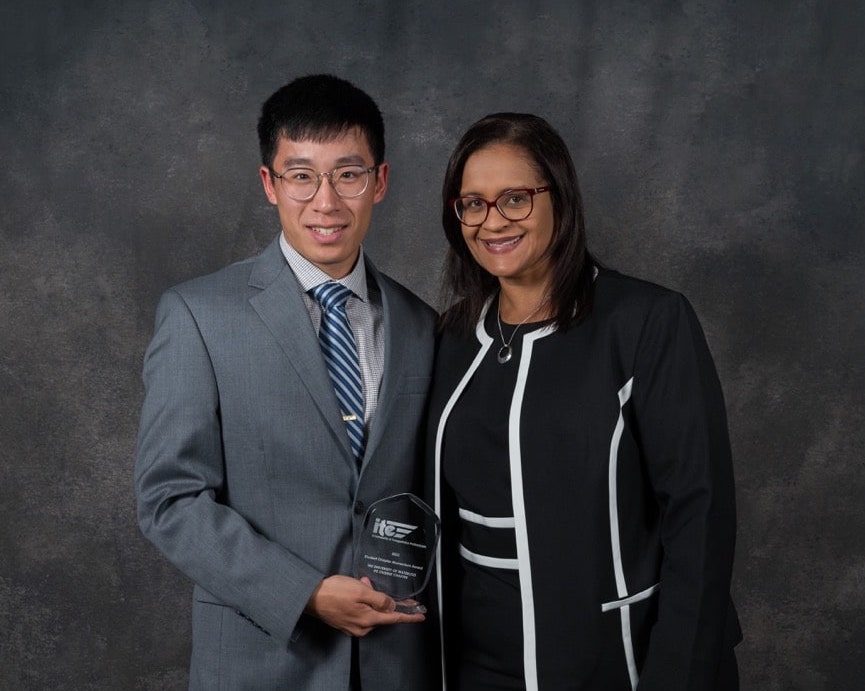 ITE District Rising Stars
Our 2023 Rising Star was highlighted as part of the overall class of District Rising Stars: Ian A. Roth, Chair of ITE Canada's Training Committee and Board Member representing the BC Interior Section.
ITE Young Leaders to Follow
The 2023 Class of Young Leaders to Follow was highlighted and includes three Canadians:
Destiny Piper, Saskatchewan Section, KGS Group
Ian A. Roth, BC Interior Section, Urban Systems
Souzan Saadat, Greater Vancouver Section, WSP Canada
Congratulations to the Canadian graduates from the 2023 Class of LeadershipITE:
Pedram Izadpanah, Hamilton Section, True North Safety Group + ITE Canada Vice President
Souzan Saadat, Greater Vancouver Section, WSP Canada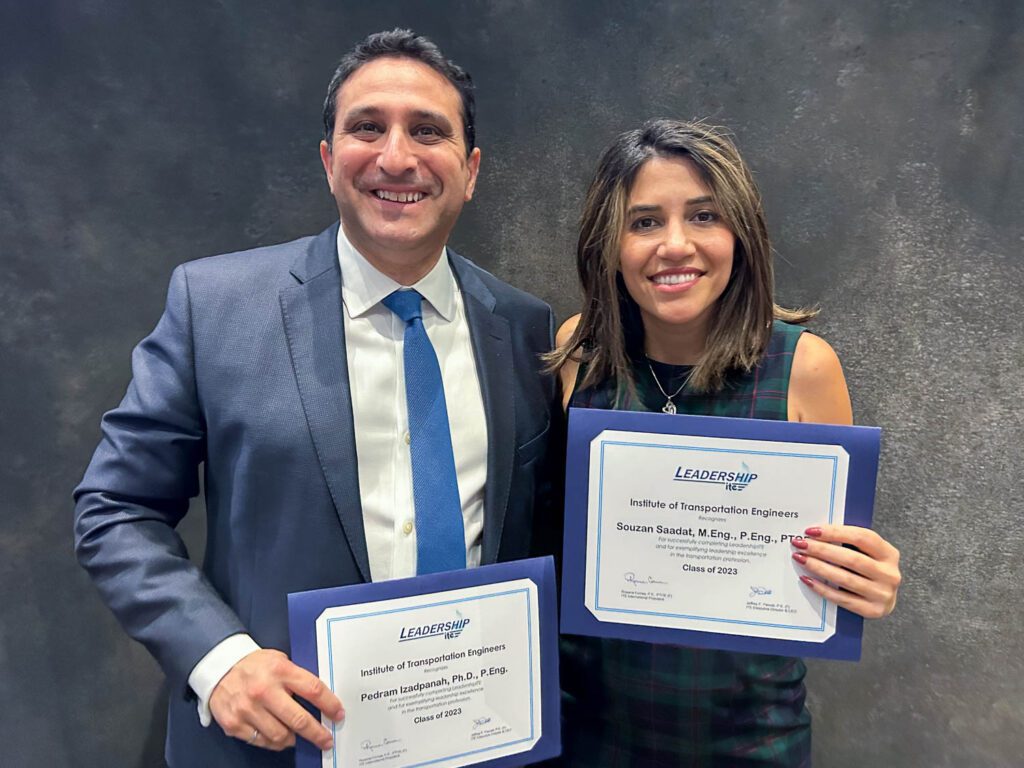 Alfred (Alf) A. Guebert, one of three individuals named an ITE Honorary Member in 2023, the highest recognition of notable and outstanding professional achievement ITE presents to an individual, was also celebrated in Portland.
Alf is known to many in Canada, having founded the Saskatchewan Section and served as President of the Canadian District and ITE International, among many other contributions. Learn more about Alf's storied career, achievements, and service in the January 2023 ITE Journal here.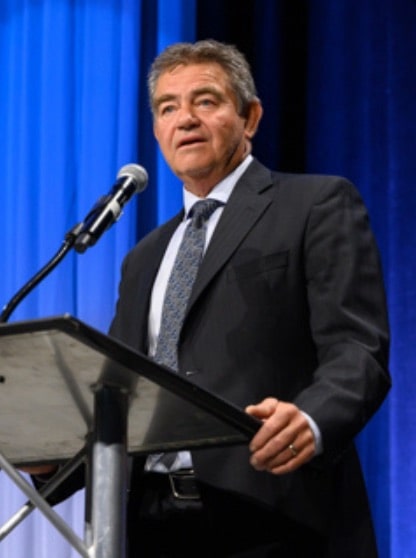 More in Canadian transportation excellence
ITE Canada celebrated the great achievements of many more in the Canadian transportation field at our conference this past June. Meet all of the recipients in this Summer 2023 Transportation Talk feature.