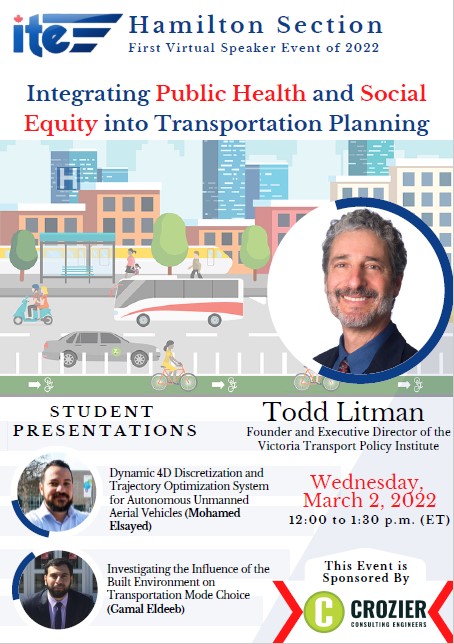 We are excited to announce the next Virtual Speaker Event of the ITE Hamilton Section is scheduled for Wednesday March 2nd 2022.
This event will include a presentation by Mr. Todd Litman, Founder and Executive Director of the Victoria Transport Policy Institute, on the many ways transportation planning decisions affect our lives and communities, with a focus on incorporating health and equity goals into planning.
Short student presentations will also be made by Mr. Mo Elsayed on Dynamic 4D Discretization and Trajectory Optimization System for Autonomous Unmanned Aerial Vehicles and Mr. Gamal Eldeeb on Investigating the Influence of the Built Environment on Transportation Mode Choice.
This event has been sponsored by Crozier Consulting Engineers.
Date:
Wednesday March 2nd, 2022
Digital Platform:
Microsoft Teams Meeting

Click on "Join Microsoft Teams Meeting" link in the invite below to join the meeting at the scheduled time.

Guest Speaker:
Integrating Public Health and Social Equity into Transportation Planning 

Presented by Mr. Todd Litman, Founder and Executive Director of the Victoria Transport Policy Institute 

Todd Litman is founder and executive director of the Victoria Transport Policy Institute, an independent research organization dedicated to developing innovative solutions to transport problems. His work helps expand the range of impacts and options considered in transportation decision-making, improve evaluation methods, and make specialized technical concepts accessible to a larger audience. His research is used worldwide in transport planning and policy analysis.

Transportation planning decisions can affect our lives and communities in many ways. They can determine how and how much people travel, their ability to access economic and social opportunities, transportation and housing affordability, traffic safety, physical fitness and health, pollution exposure, and whether various groups receive their fair share of public resources. This presentation will describe new research which can help understand these impacts and allow communities to better incorporate health and equity goals into planning.

Student Presentations:
Dynamic 4D Discretization and Trajectory Optimization System for Autonomous Unmanned Aerial Vehicles

Presented by Mr. Mo Elsayed

Mo is a senior PhD candidate, researcher and co-instructor at the department of civil engineering, McMaster University, Canada. His research interests fall in the integration of autonomous systems with design and multi-objective optimization platforms.  His current research under the supervision of Dr. Moataz Mohamed is utilizing algorithms, energy simulation and kinematics for the development of an integrated optimization and design tool for autonomous unmanned aerial vehicles for city transportation applications and large infrastructural projects. His work has been published in the Transportation Research and the IEEE, he also serves as a reviewer for a number of journals.

Unmanned Aerial Vehicles (UAVs) are being heavily adopted in smart cities and dense urban contexts. This airspace consumerization calls for a unified optimum infrastructure operational model including creation of routes, traffic design, maximizing capacity, and trajectory optimization. This study presents a novel autonomous Advanced Aerial Mobility (AAM) network design for dense urban contexts.

Investigating the Influence of the Built Environment on Transportation Mode Choice

Presented by Gamal Eldeeb

Gamal is a postdoctoral fellow at the Department of Civil Engineering, McMaster University. He is currently working under the supervision of Dr. Moataz Mohamed. His current research focuses on investigating the various factors affecting travel behaviour, with an emphasis on public transit. Gamal is a sustainable transportation advocate with a huge interest in behavioural modelling, social psychology, and data analytics.

The study aimed to investigate the role of the built environment attributes and their contextual effects on travel behaviour in the City of Hamilton. The study utilized a dataset of 4739 respondents elicited from an online survey that was part of Hamilton Street Railway (HSR) Public Engagement efforts. The study employed a Nested Logit (NL) model along with a quadratic polynomial trend surface to spatially investigate the determinants influencing mode choice behaviour in the City of Hamilton. We examined the association between the primary mode of travel (dependant variable) and socioeconomic demographics, trip characteristics, and surrounding built environment attributes along with their geographic variations as a set of independent variables.

Time:
12:00 p.m. to 1:30 p.m. EST