Date
Saturday, September 16, 2023
Schedule
10:00 am Meet at parking lot
10:00 am-12:00 pm – Bike tour
12:00 pm – Lunch Buffet at Iron Goat Lodge: Bar and Grill
Notes
Bikes will not be provided for the tour. Please either bring your own or rent. Bike rental discounts of 20% off regular price are being offered by Rundle Mountain Bike Rental (1-1743 Bow Valley Trail), where regular and electric bikes are available. Attendees can book their bikes online ahead of time (only credit card info is needed, no payment), and during pickup/payment mention they are part of ITE Southern Alberta Section Canmore Bike Tour to receive this discount.
Location
500 Benchlands Trail (Parking lot off of Benchlands Trail across from Iron Goat Pub and Grill)
Cost
$20 for Public Agency Members
$35 for ITE members
$40 for non-ITE members
$15 for Student ITE Members
($650 Sponsorship)
Transportation corridors make up the vast majority of public space in communities. How we allocate and design that space fundamentally influences the way a community looks, feels and operates. No other aspect of engineering has such a critical role in shaping not just operational aspects of how people move, but also the social, economic and environmental outcomes for communities. While the practice of transportation engineering is evolving, even today the tools and techniques used often result in poor outcomes for communities. While solving short-term vehicle transportation problems, traditional methods can leave communities with long term congestion, and safety and accessibility issues.  Canmore is unique only in it's constraints, and these constraints have forced the community to adopt integrated approaches sooner and more aggressively than most.
This tour will lead participants through a range of designs and show where a different set of priorities have been applied. Narrow traffic lanes, windy roads, wide paths, separated bicycle facilities, raised mid-block crossings, continuous crossings, and near-side traffic signals will be highlighted as emerging best-practice.  Benefits of the trade-offs between convenience while driving and place-making will be on display throughout, including in areas where lanes have been narrowed, turn bays have been removed, and four-lane cross-sections have been converted to three-lane roads.  We will travel by bicycle on some of Canmore's best and worst infrastructure to experience first-hand being placed in a variety of situations by designers.  It is hoped that through this short glimpse into different infrastructure types, you'll leave with a strong impression of the impacts that transportation designs can have on the way people travel, and more importantly, how community is created by roadway designs. All cycling abilities are welcome!
Tour Lead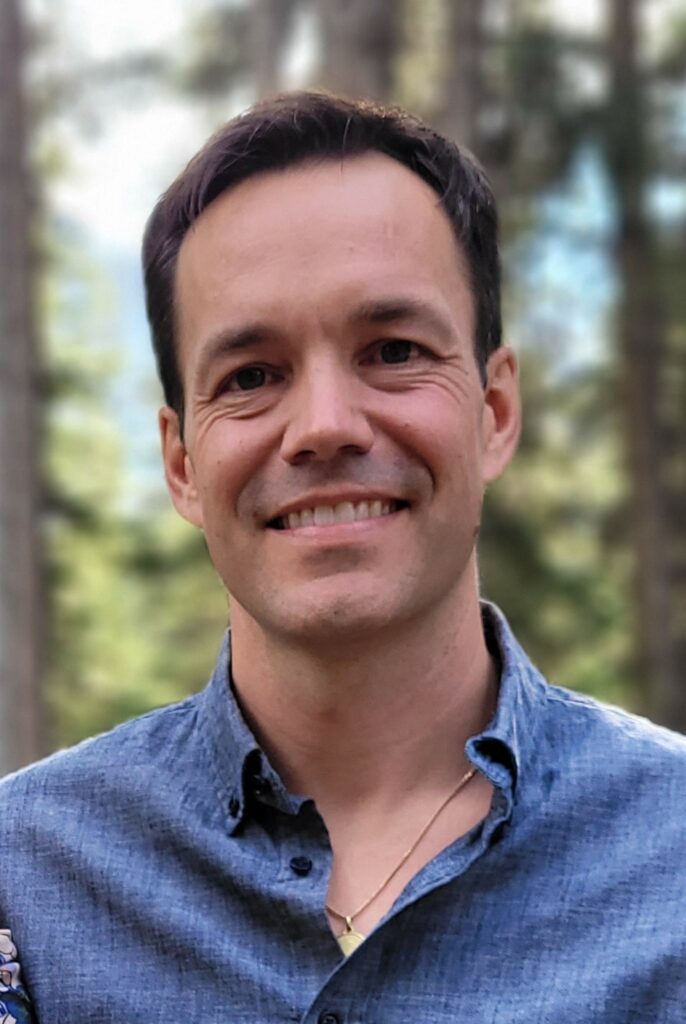 Andy Esarte is a civil engineer and graduate of the University of Western Ontario, and has managed the engineering department for the Town of Canmore for the past 12 years. During that time he has overseen the development of Canmore's first Integrated Transportation Plan in 2013 and subsequent update in 2018, as well as Canmore's first Integrated Parking Management Plan in 2018.  Prior to joining the Canmore team, Andy worked as a project manager for light rail transit projects for the City of Calgary and designed bridges and heavy civil structures in consulting.
Residents of Canmore since 2013, Andy and his wife Karen have two young children aged 9 and 11. As a goal, Andy aspires to creating a transportation network for Canmore that allows for safe and accessible travel by all residents and visitors to Canmore, regardless of age or ability, and with equity between travel modes.