The City of Calgary's Mobility Operations Centre (MOC), previously known as the Traffic Management Centre, uses high-end technologies to maximize the operational efficiency of the City's road system by monitoring traffic conditions, executing control actions, and disseminating information to the public. This includes live traffic condition tweets, activating dynamic messages signs when needed, and using pan-tilt-zoom cameras to verify incidents and monitor traffic. The MOC is currently responsible for providing traffic monitoring and incident management, remote signal time changes and coordination, traveler information, Airport trail tunnel monitoring, and dispatch emergencies.
In this tour, you will get a first-hand look at the recently upgraded MOC. This was the first major space and system upgrade in the last 15 years. These technology upgrades have established the foundation for a smart City Operations Centre that is ready for future connected and autonomous vehicle applications. A short presentation will also be made on the MOC's work on an Adaptive Signal pilot on Macleod Trail, connected vehicle infrastructure and installs, and our Integrated Corridor Management plan to actively monitor and control signals during incidents and closures.
Sign up at your earliest as spots for the tour are capped to 25 attendees.
After the tour, we will head to Cabin Brewery for some beverages and mingling. If you are unable to join us at the operations centre, we'd love to see you at Cabin!
Note that registration is separated between the tour and the brewery event. Please ensure you RSVP accordingly.
Tuesday, May 23
3:00 PM – 4:00 PM City of Calgary Mobility Operations Centre Tour
Manchester Building E, South Tower
2808 Spiller Road SE
Visitor Parking is available in marked parking stalls south of the building or on-street
Transit access via the nearest Erlton LRT Station
4:00 PM – 5:30 PM Social
Cabin Brewery (505 36 Ave SE)
Biographies
Sameer Patil – Sameer has a Master's degree in Transportation Engineering from the Illinois Institute of Technology, Chicago, Illinois. He has 20+ years' experience in transportation engineering including ITS, signal coordination/optimization, traffic incident and emergency management. He has designed and implemented various ITS systems. He currently leads the Regional Traffic Management Centre (RTMC) program with Alberta Transportation. He has been with the City of Calgary for 16 years, and for the last 11 years as the Leader of the Mobility Operations Centre.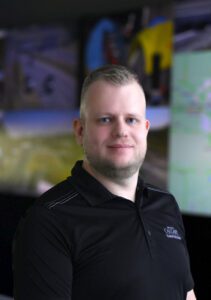 Alan Fournier – Alan has been a Traffic Engineer with the City of Calgary for 10 years, working in traffic signal construction, traffic signal modelling and programming, and currently with the Mobility Operations Centre. He loves looking for new ways to leverage our increasingly networked traffic control devices to improve the troubleshooting, monitoring, safety, and flow of our road network.