This month, we will be exploring interdisciplinary perspectives on the importance of customization and non-standard treatments in street design and construction to achieve unique project objectives in an urban context. We are joined by guests from the Calgary Municipal Land Corporation, The City of Lethbridge, and The City of Calgary who will share their experience, successes, and lessons learned on recent projects across Southern Alberta that have leveraged custom solutions to achieve desired outcomes. We'll start with a short ten minute presentation from each of our panelists, and then provide time for questions and discussion amongst the panel and participants.
Speakers:
Crystal Scheit, Senior Project Administrator – City of Lethbridge
Amber Osadan-Ullman, Senior Development Manager – CMLC
To Be Confirmed – City of Calgary, Urban Initiatives
Bios:
Amber Osadan-Ullman, Senior Development Manager – Calgary Municipal Land Corporation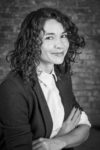 Amber joined CMLC in April 2014 and brings a decade of land development experience to the team. She is passionate about bringing placemaking and great design to the city-building projects she leads in and outside the Rivers District. In Amber's capacity as Senior Development Manager, she drives strategic capital projects and brownfield redevelopment with a focus on innovative urban design solutions and financial sustainability. She leads all projects with an eye towards placemaking, project management, economic development, land use planning and design. With this experience Amber has presented at several conferences including the Canadian Institute of Transportation Engineers, CIP, and the Alberta Professional Planner Institute in addition to guest lecturing at the University of Calgary's Haskayne School of Business, and School of Architecture, Planning and Landscape.
Amber holds a Bachelor of Arts with High Honours in Regional and Urban Planning from the University of Saskatchewan and a Bachelor of Policy Studies from Mount Royal University and is a registered professional planner with the Canadian Institute of Planners (CIP).
Crystal Scheit, Senior Project Administrator – City of Lethbridge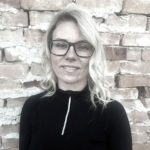 Crystal Scheit has been working in the transportation industry for almost 14 years and she's currently a Senior Transportation Project Administrator for the City of Lethbridge. Prior to coming to the windy city in 2019, she spent her life in Central Alberta where she worked for Alberta Transportation, Red Deer County and the Town of Innisfail on a variety transportation projects. In 2010 she was presented with the Award of Merit from CEA and in 2011 the Innovation Award from Infrastructure and Transportation for her involvement in the Highway 2 Median Crash Barrier System Project.
Although rural transportation projects come with a variety of challenges, taking on the construction of the 3 Avenue corridor in downtown Lethbridge has been one of her most complex projects to date. She began work in August of 2020 solving problems not typically under basic transportation umbrella including:
Working with underground infrastructure and buildings that are over 100 years old
A lot of field investigation was required because drawing and records information was sparse and inaccurate
Juggling the demands of over business owners during shut downs, road and sidewalk closures, watermain installations
Businesses already under pressure from the economic impact of COVID-19 and ongoing social problems in the downtown core
Addressing contaminated material from previous infrastructure – knowing how to who to call in, how to dispose,
Learning new aspects of streetscaping
Creating solutions for multi-modal transportation
The project is now near completion and she will share some of the lessons she learned along the way. When Crystal isn't in the trenches, she has a passion for the great outdoors where she spends most of her spare time camping, fishing, boating and hiking with her husband, two sons and two dogs.