Join is for our traditional Christmas Luncheon and AGM!
York University Second Student Centre- Convention Centre, Rooms B+C15 Library Lane North York, ON, M3J 2S5
Gold Level Sponsorship ($500): Sponsors are invited to bring a roll-up board with banner stand (24″ to 33″ x80″) to promote its transportation services.  Their company's logo will be included in the luncheon presentation and recognized verbally in the proceedings.  As well, one free individual member registration will be included.
Silver Level Sponsorship ($300): Company logo will be included in the luncheon presentation and the company will recognized verbally in the proceedings.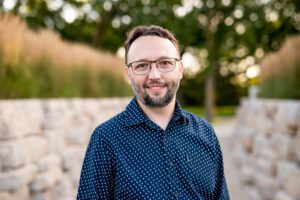 Keynote Speaker: Matthew Sweet, Manager, Active Transportation, City of Mississauga
Presentation Abstract: Micromobility refers to small, lightweight human powered or electric devices that typically operate below 25 km/h and are ideal for trips up to 10 km in length; in a shared micromobility system, users sign up for a membership and rent a vehicle for a short period of time. Mississauga is in the midst of a multi-year process towards establishing shared micromobility services. The presentation will provide an overview of the policy foundations for micromobility, the work that has been undertaken to date to recommend specific micromobility options to Council, specific challenges and concerns that have been raised along the way, and the City's ongoing implementation planning.
Bio: Matthew is the Manager of Active Transportation for the City of Mississauga for the past 5 years. Matthew leads an amazing staff team who coordinate a multi-million dollar capital infrastructure program and a multi-faceted engagement and education program to encourage people in Mississauga to walk and bike more often. Matthew has recently completed 2 years as the Chair of the Ontario Traffic Council Active Transportation Committee, is currently a member of the Ontario Active School Travel Council, and is co-Chair of the new Canadian Policy Working Group of the North American Bikeshare and Scootershare Association (NABSA). Prior to working for the City of Mississauga, Matthew held roles at the City of Cambridge and the Region of Peel. Matthew is a graduate of Mohawk College and McMaster University, is in the 10th year of his career, and is a proud father to Olivia.