Open House:
This year, SA ITE is giving the opportunity for its Members at Large to be more involved with the chapter event planning and execution. We will be hosting an open house prior to the luncheon where attendees will be invited to "register" for different event tasks throughout the year. Opportunity to register to present at a specific event will also be provided.
Luncheon Presentation:
Urban mobility and last mile logistics is an emerging area for researchers responding to the mandate to build more sustainable cities. Jacob Lamb`s field of study relates to Intermodal strategies for emerging autonomous delivery technology in urban centres. Using Calgary as a case study, he will discuss how a two-stage cost allocation method with integrated GIS modelling can be used to identify the required number of micro-fulfillment centres in a city, and where they should be located in order to minimize the costs for a drone delivery service. He will also cover developing approximations for routing methods a "mothership" van can use to deploy a fleet of autonomous sidewalk delivery robots in an urban area. Finally, Jacob will provide his perspectives on how this tool can be used by public agencies and authorities looking for transparent and defendable approaches to include in their emerging autonomous delivery technology strategies.
Last mile goods delivery and autonomous vehicles have been identified as a disruptive technology in the Calgary Goods Movement Strategy. Canadian cities and towns are already test beds for this technology causing political and societal interest; see Toronto's recent ban on sidewalk autonomous delivery robots. With Calgary seen as a leader in the micro-mobility space it is only a matter of time until drones, sidewalk robots, and autonomous delivery vehicles make it to Calgary's streets. Jacob hopes this presentation will prepare the community for the arrival of these technologies and equip them with knowledge and some tools to best integrate them peacefully, safely, and productively into our city.
Bio for Jacob Lamb, University of Calgary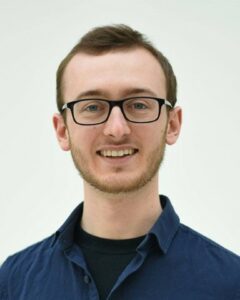 PhD Student of Transportation Engineering at the University of Calgary, Canada
Analyst at Associated Engineering's Strategic Advisory Services
Jacob Lamb is a PhD Candidate at the University of Calgary, Canada, supervised by Professor S. C. Wirasinghe and Professor Emeritus N. M. Waters, in the department of Civil Engineering. Jacob also works as an analyst at Associated Engineering in the Strategic Advisory Services team focussing on Intelligent Transportation Systems. With his thesis, in logistics and transportation, Jacob is integrating the most advanced continuum approximation modeling methods with modern Geographic Information Systems to understand how autonomous vehicles may change the urban goods delivery system. Jacob previously consulted as the Commercial Vehicle Team Lead at the Transition Accelerator, Edmonton Region Hydrogen Hub in 2020, where he secured demonstrations of fuel cell trucks in Edmonton in 2021. In all areas of work, he aims to encourage sustainable and transparent business decisions and government policy.