Summary:
The City of Calgary is excited to share work on a new kind of policy that is being tested call the Neighbourhood Streets Pilot Policy. The goal is to create streets where neighbours of all ages and abilities can connect and have access to safe, comfortable travel options.
The new policy replaces Calgary's 2003 Traffic Calming Policy and:
Reflects today's values
Introduces new toolkits like resident-led activation or street labs
Explores opportunities for shared decision making
Calls for an equitable intake process
Looks for more opportunities to collaborate and find efficiencies
This presentation will give an overview of the policy approach, pilot projects and how recent engagement on the project outcomes will be incorporated to finalize the policy.
Speaker: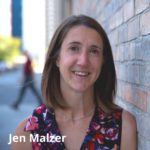 Jen Malzer, P. Eng., M.Sc.
Program Coordinator, Liveable Street
City of CalgaryJen Malzer is a Program Coordinator in Liveable Streets at the City of Calgary whose focus is on active modes, reimagining traffic calming, and integrating tactical urbanism principles throughout the organization. Jen's work explores the ways municipalities can engage with community members of all ages for fast, meaningful change using shared decision making. In 2017 she was awarded the Sustainable Urban Transportation award by the Transportation Association of Canada. Jen was the president of CITE, Canada's community of transportation professionals, between 2015 and 2017 and the second woman to represent Canada on IBOD, and is a member on Banff's first Sustainability panel.