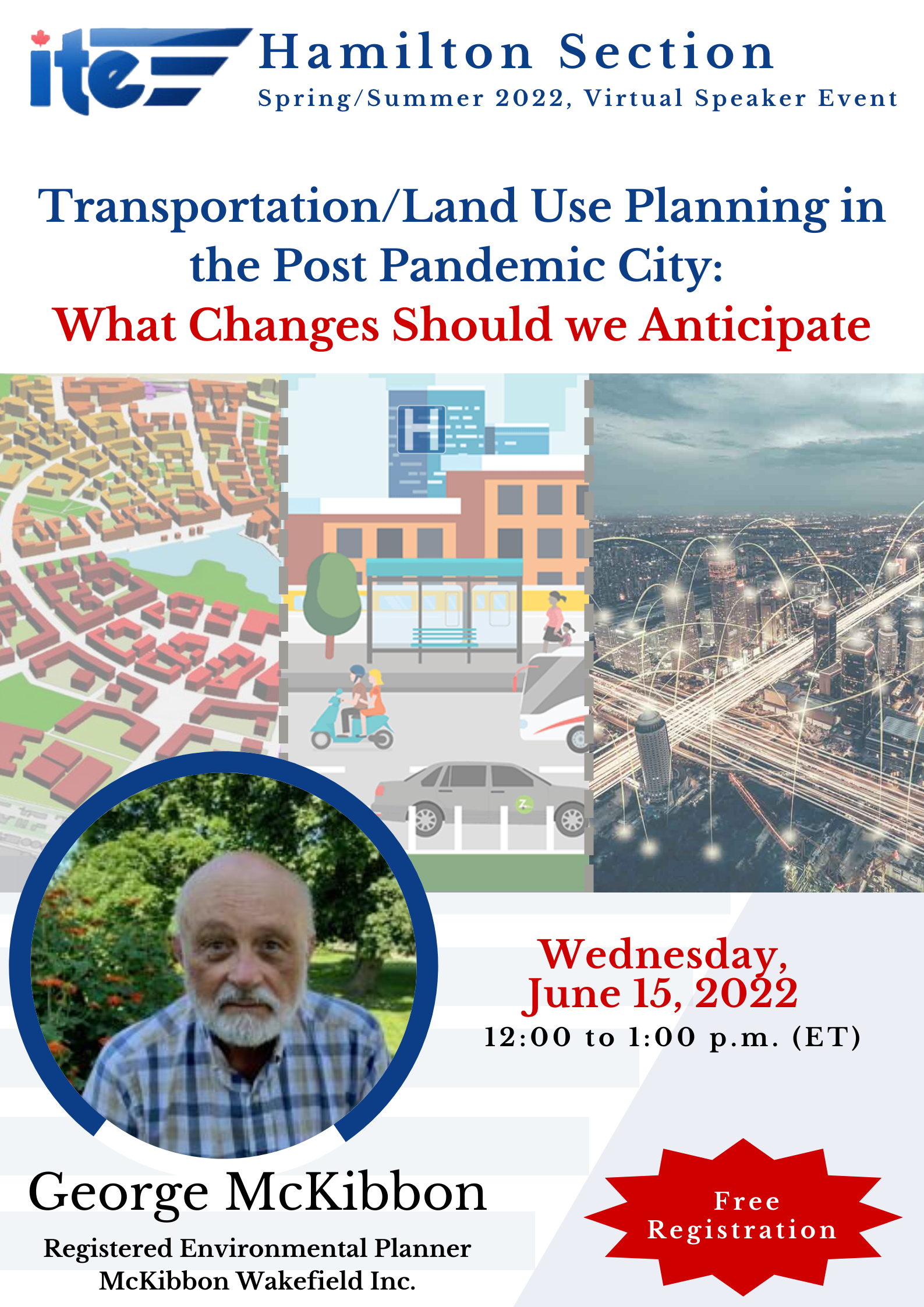 Transportation/Land Use Planning in the post pandemic city: what changes should we anticipate
The pandemic accelerated a great many changes, technological and otherwise.  That acceleration, while dismaying, presents opportunities and challenges for everyone.  The speaker will talk about these changes and provide some context on how to address them. The presentation will be on several short topics: each of which to provide an insight into initiatives you are presently working on in your practices and what you may be confronted with in your work 20 years from now.  For example, when the Province recently exempted "A" and A+" projects from the Environmental Assessment Act, they changed the framework for the administration of that Class EA, especially as it relates to Official Plan road classifications.  Mr. McKibbon will also focus on what our streets and communities might look like in 20 years time.  In his presentation, he will focus on points like: the future of single family residential zoning; equity where housing is concerned; air quality, traffic and land use; robotic delivery bots; electrification and automobile ownership, especially where electric vehicles are concerned.
George McKibbon is an environmental planner with over 40 years of professional experience in Ontario.  He is a Registered Professional Planner and a member of the American Institute of Certified Planners with advanced certification in environmental planning.  In addition to working with citizens groups, First Nations and Treaty organizations, he has worked for a variety of municipalities, private companies and Provincial Ministries and Canadian Departments.  He is also a sessional lecturer in the W. Booth School of Engineering Practice and Technology and an Adjunct Professor in the School of Environmental Design and Rural Development.  He served his profession on several advisory committees and boards including those of the Ontario Professional Planners Institute, the Canadian Institute of Planners, the Upstate Chapter of the American Planning Association and the American Institute of Certified Planners.  
The link to this webinar will be emailed separately to registered attendees prior to the session. Registration closes at the end of the day, June 13th.