Answers to your Job Posting questions
I can only save my posting as a draft. How do I purchase my posting?
You can save your posting as a draft and come back to it later. Purchase is only required once you want your posting to be live on our website. To do this, click the "Preview" button then select the posting package you would like to purchase (usually one). You will then be prompted for your payment details.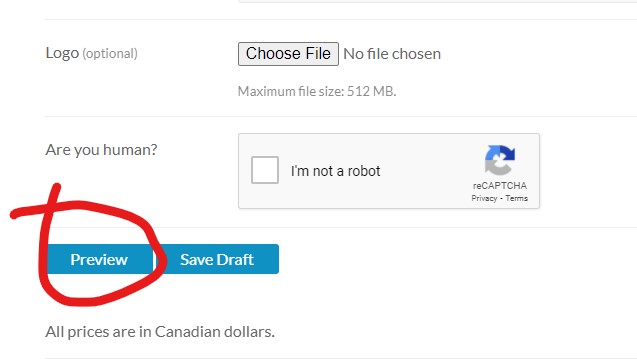 ---
I tried creating an account but did not receive my password. How can I log in?
When you first create your account an email is sent to you with your initial password. This email can sometimes end up in your spam or junk folder. Please check there. If you still can't find the password then contact us and we will set your password for you. Note that there can be delays in manually resetting your password so it is best if you can use the password that was sent when your account was first created.
Where can I find a copy of my invoice?
Go to the My Account page and your posting purchases will be listed along with a link to your invoice. You can also access the My Account link from the bottom of any page on our website.
How can I relist a posting?
After 30 days your posting will expire and an email will be sent to you with a with instructions on how to get a renewal discount code to relist your posting. Note that you will enter the code when you go to check out. If you did not receive a code or you have lost your code please contact us. Postings may be relisted up to 30 days after the posting has expired.
When will my posting appear on the website?
As soon as your payment information is approved your posting will appear on our website. Unfortunately, you are not able to schedule when your posting appears at this time.
Which credit cards do you accept?
We accept all major credit cards including American Express.
Can I pay by cheque?
We can only accept credit card for payment at this time.
Why is my credit card getting rejected?
There are many reasons why a credit card might get rejected. When a card is rejected, our system will get a notification with few other details. You generally need to contact your card provider to get details on why your card is not working. Note that many card providers have limits on repeat transactions for the same amount in less than a 24 hour period. For example, if you are attempting to purchase a second job posting in the same day this will often lead to a rejected card. If this is happening, you can wait for 24 hours to purchase an additional post or use a different credit card. If you know you are going to purchase more than one job posting then please purchase the 2 or 3 job posting package. This will allow you to purchase multiple postings on a single transaction.
Are postings taxable?
Your purchase is taxed based on the location of the billing address of your credit card. Tax is only charged on addresses based in Canada.
Can I purchase postings ahead of time at a discount?
We do not offer any discounts on job postings except for renewals.
Why should I list my job with CITE?
Our Job posting service is the best way to find the transportation professional you are looking for! In addition to posting on our website, we email our membership directly notifying them of your job and promote new postings through our social media channels. Our website is optimized for search engines so you can be sure that when you post your job with us it is going to get found.
Can I cancel my order?
Once payment has been accepted and your posting appears on our website, your order cannot be cancelled. However, you can change your posting or mark the posting as "filled" so that it no longer appears. Please see our Terms and Conditions for more information.
Why is the total for my posting order not correct?
View your cart to ensure that you only have one job posting package selected. Sometimes if a posting submission is not completed the previous posting package will still be in your cart from the last time you used the site.
I can't log in?
Ensure you are using login information for our new website and not your credentials from the old CITE website (prior to January 1, 2016). Your old login information will not work on the new website. You can easily create a new account using and email address and follow the prompts. If you still need help please contact us.